Halfway Toyota Hybrid Range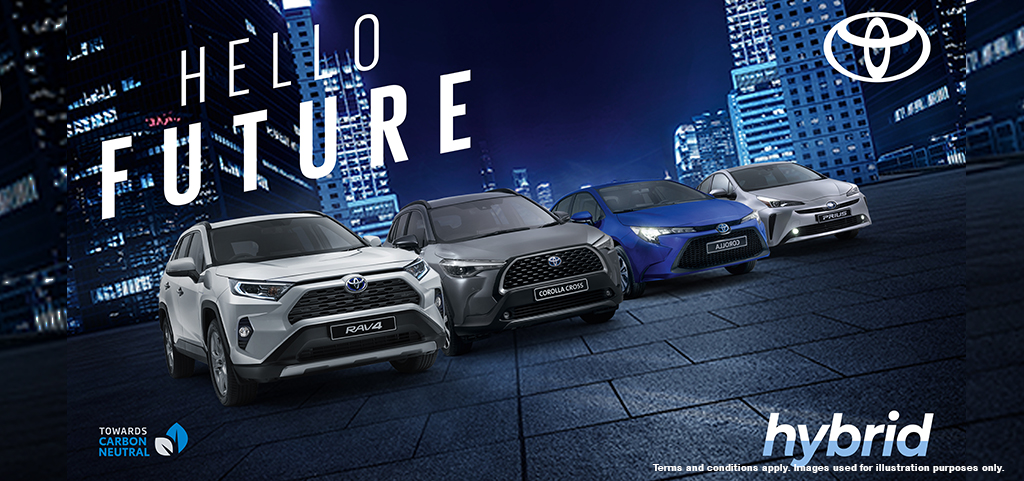 DOING IT FIRST
DOING IT BEST
When you take the wheel of a Toyota self-charging Hybrid, you take hold of 20 years of hi-tech innovation.
We were the world leader in hybrid technology even then - with the Toyota Prius being the first mass-produced hybrid vehicle - and we are still the world leaders in hybrid technology today.
But, technology goes far beyond just mass production, it also goes to the bleeding edge of engineering - as seen in 2018, when the Toyota Gazoo Racing team won the Le Mans 24-hour endurance race with Fernando Alonso, Kazuki Nakajima and Sebastien Buemi in the ground-breaking Toyota TS050 Hybrid.
This perfectly showcases the potential of Toyota Hybrid technology and proves that the Toyota Hybrid gets you moving powerfully, every time. Finally, the Toyota Hybrid range is here. Hello future.
IT'S BREATHTAKING TECHNOLOGY
TOYOTA HYBRIDS
Step into the future and move ahead with our wide range of self-charging Toyota Hybrids. Whether you're looking for a striking SUV or a dynamic sedan, we have you covered. Expect incredible when you get behind the wheel of the RAV4 Hybrid or enjoy the vehicle that started the movement, the Toyota Prius.
Contact us today to arrange your test drive or to find out more. All Covid-19 regulations are in place for your safety.
Terms and conditions apply. Images used for illustration purposes only.